Nelling, Inc.
C l o t h D o l l s
(Click on photos to enlarge)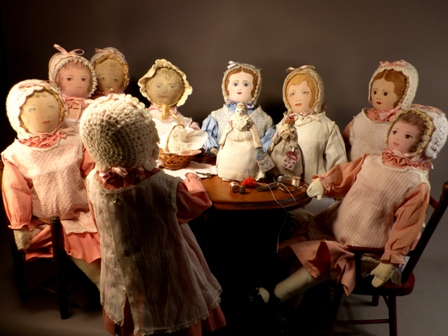 Shown here is a group of Polly Heckewelder cloth dolls made by the Ladies of the Sewing Society of the Central Moravian Church through the ages with dolls dating from the late 19th Century to the mid to late 20th century. Below are descriptions and prices.

There are even some of the later models in the collection dating from the very late 1900's that are not shown, priced from $200.00. Please ask for photos and descriptions.
s s s
Doll No 4 in Collection, WWII Era

$1200.
Doll No. 12 in Collection, 1950's

$1000.
Doll No. 3 in Collection, 1950's

$1000.
Doll No. 15 in Collection, Early 1900's

$1100.
s s s
M

artha Chase Child

16"

Side Parted Hair



SOLD
O

ne of the rarer Martha Chase offerings, this is the child with charming, side-parted hairstyle. She is in very good condition with original paint except for some touch up to her nose and to a small area above her left eyebrow. She has blond textured hair and painted eyes of sky blue. .
| | | |
| --- | --- | --- |
| | Her body is very clean and sturdy, having some reinforcement to the shoulder joints in the form of extra stitching. Her floral cotton dress allows her full slip to peak under her hemline, originality unknown but possible. Along with her comes a vintage book about the Chase family dolls that is more nostalgic than informative, but it has been with the doll through her years in a very old collection. She's al little ray of sunshine! | |
s s s
E

arly Columbian



ON LAYAWAY
A

pre-1900 Columbian cloth doll (19") from the first era, made by Emma Adams of Oswego, New York. This primitive beauty features a flat, oil painted face with caramel brown eyes, pale complexion and a pursed, rose colored mouth. She has no touch up to her original finish, and is in very nice condition, except for a tear with some loss of surface on the top corner of her left forehead. Her short, curled wisps of light brown hair are achieved with soft, flowing brush strokes.
| | | |
| --- | --- | --- |
| | The oil painted surface is also repeated on her shoulders, and she has cloth lower arms and legs, but her legs have been covered and stitched using a fine, black cotton fabric. The legs feel totally intact underneath and possibly this was done to mimic black stockings. Her clothing, which looks to be original or the type of clothing found on these dolls, consists of a muted grey striped pinafore dress with attached, pale pink bodice. Her pale aqua leather antique boots play well against her outfit and she wears an early, antique cotton bonnet with drawstrings that must be a donation from one of her larger-headed relatives! | |
s s s
Post Office Box 4327 n Burbank, CA 91503
Cell (818) 738-4591 n Home Phone (818) 562-7839
Don't forget to look at the Miscellaneous page!